The Passions and Pursuits of Katy Jones (1965 – 2017)
Katy Jones, Teaching Assistant from Teignmouth, Devon, was taken prematurely by Motor Neurone Disease (MND) at the age of 52.
Her years of dedication to Our Lady & St. Patrick's School and Bishopsteignton School are a testament to the selflessness she blessed us all with. Never afraid to go the extra mile to support others, "she threw herself wholeheartedly into everything", including the choir and after-school clubs. This was, and still is, appreciated; "she cared deeply about the children in her care and very many of them remember her with affection".
Katy fully believed in living, not just surviving, MND. It was, and never will be, her identity. From Our Lady St. Patrick's School and Cuthbert Mayne School, Torquay, to Teignmouth Grammar school, her education led her to work in the Ministry of Defence in Exeter, where she met her husband-to-be, Mark Jones. Soon enough, Mark's career took the couple to Germany, where they enjoyed several years with their children, Megan and Rhys – now both in their twenties.
A wonderful Teacher, wife, mother and daughter, Katy was always a supporter, soon becoming a Swimming Coach at her children's local swimming pool. With infectious enthusiasm and praiseworthy perseverance, Katy remained positive despite her MND. Seeing the glass not as half full, but glistening and beautiful, Katy embraced the preciousness of life. Such preciousness is pursued, too, by her family and friends who continue to reciprocate her love and commitment to a cause – paying tribute through their donations and support for the Motor Neurone Disease Association. After raising £12,689.59 and £1055.00 from Muchloved.com and Justgiving.com tribute pages to Katy, respectively, the MND Association is incredibly grateful for the kindness of each and every one of you involved. No act of your kindness is ever forgotten.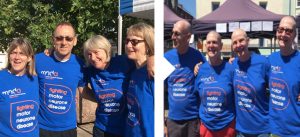 Indeed, giving is so much more than numbers and figures: it's love. Putting the fun in fundraising, Katy's siblings committed themselves to a head shave at Teignmouth Triangle on July 7th, 2018. Surrounded by support from collecting buckets, sponsorship forms, MND Association Exeter and East Devon branch tombola, friends, family, local businesses and schools, this famous four reached new heights – turning thankfulness for the work of MND Association during Katy's life into tribute. Not only did the event raise £2728.03, but it continued a legacy of care and collaboration to bring the aims of the MND Association to fruition.
Written by Scarlett Parr-Reid, Editor